3 Models, Infinite Possibilities
LightStim+ ProPanel
This four-panel, hands-free device is thoughtfully designed for versatility, ease of treatment, and client comfort. Use as a stand-alone or as part of a targeted treatment protocol to reduce the visible signs of aging and help promote healthy, smooth, and radiant skin at any age.
This four-panel, hands-free device is thoughtfully designed for versatility, ease of treatment, and client comfort. Use as a stand-alone or in conjunction with other treatments to help clear acne breakouts and restore the skin's healthy and natural glow.
This four-panel, hands-free device is thoughtfully designed for versatility, ease of treatment, and client comfort. Use it to help relieve pain, increase blood circulation and deliver a soothing treatment that sets in motion the body's inherent regenerative process.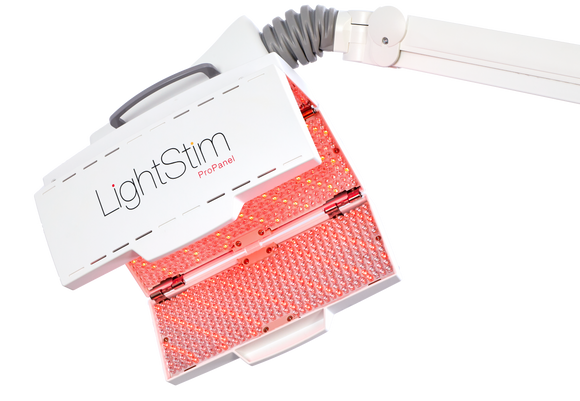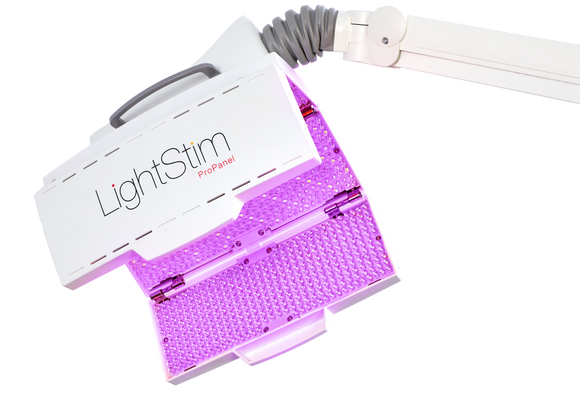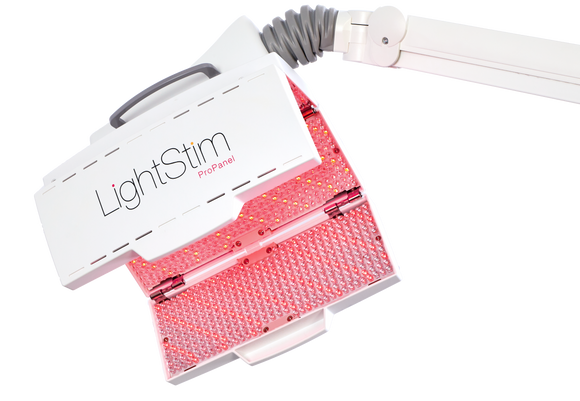 LightStim ProPanel
MultiWave Technology
FDA Cleared
1,400 LEDs
A Smart Investment
Our Professionals make an average of $58,500 annually from LightStim offerings. Proof is in the numbers- 80% of our customers pay off their device within 2 months.
Features
Four adjustable panels allow for better coverage and increased contour to the targeted area. Panels extend a full 180º for touchless treatment across different parts of the body, such as the hands, neck, back or décolleté.
The ProPanel's articulated arm has a wide range of motion that can be guided effortlessly into position over any treatment area. Available in an easily transportable wheel-base or space-saving wall mount.
LightStim developed MultiWave® Patented Technology to simultaneously emit multiple wavelengths of light. Each ProPanel utilizes 1,400 medical-grade LEDs that emit a unique combination of wavelengths optimized for anti-aging, acne or pain.
Set your desired time at the beginning of each session or save your own custom treatment time and recall it with a single button.
Professional Testimonials
Kate Somerville
Celebrity Aesthetician,
Skin Health Experts Clinic
" We incorporated LightStim because we wanted to reach different layers of the skin at the same time. Our goal was to create special facials using LightStim. We tested the Lights on our clients and received a phenomenal response! After treatment our clients experience a glow that lasts for days. Results are visible in a shorter period of time. The feedback has been extremely positive. Clients are noting a more vibrant, tighter, firmer complexion. After using LightStim I always get compliments from people saying I look radiant and beautiful– like I'm lit from within. "
Professional Testimonials
Dr. Paul Nassif
Renowned Plastic Surgeon,
Host of E!'s Botched
" Every postoperative patient gets treated with LightStim in my office. To help decrease bruising, increase healing, and help with redness. I personally use the LightStim LED Bed about 2-3 times a week just to veg out and decompress. I had a patient write me last week, thanking me profusely for the LightStim treatments and what it did for her. Her swelling decreased dramatically. Every time she walked out of my office, she felt absolutely incredible and full of energy. "
Professional Testimonials
Shani Darden
Esthetician & Skin Expert,
Founder of Shani Darden Skin Care
" LightStim is amazing, it has changed my client's skin. It reduces fine lines, wrinkles, and creates more youthful looking skin. LightStim has also been incredible for my clients with acne and has helped to clear their skin. It has become one of my facial necessities! "
Frequently Asked Questions
ProPanel Lights can be used as a stand-alone treatment to treat Anti-Aging, Acne or Pain and provides a soothing and relaxing client experience. ProPanel treatments can also be incorporated into almost any service to optimize the skin's response, enhance visible benefits, and diminish post-procedure irritation and pain.
The recommended treatment time is 20 minutes. The ProPanel may also be used in "Express Treatments" for 10-15 minutes as a quick boost to restore and rejuvenate. It's hands-free and allows the professional to perform other services while your client relaxes and enjoys the soothing, gentle warmth.
Treatment pricing can vary based the demographics of your area and the services you offer. LightStim ProPanel can be included as part of an existing menu of services, as a standalone treatment, an add-on, or incorporated into other advanced treatments. Our team is more than happy to discuss the best way to successfully integrate LightStim.
Apply a moderate amount of rubbing alcohol to a soft cloth or cotton pad and gently wipe the LEDs once per day. Do not pour or spray alcohol directly onto the LEDs. Do not use a disinfectant other than alcohol as this will damage your Light and void your warranty. On all non-LED surfaces you may use a topical disinfectant or cleaner applied to a soft cloth, but do not spray these in or around your Light as the spray may damage the electrical components and void your warranty.
We offer downloadable marketing materials to all LightStim Professionals. Once approved you can access protocols, brochures, photo assets, video links, studies, and more. We also offer LightStim LED Certification that can be taken at your own pace.
Absolutely. LightStim ProPanels work naturally to help restore and optimize skin function, and to provide a foundation for even better results from other products and services. For details and recommendations on product ingredients and treatment compatibility, approved LightStim Professionals can refer to LightStim Protocols or our LightStim LED Certification Course.